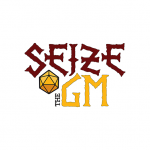 Main Topic
Zendead-
Movie- The Titan on NetFlix.
The earth is becoming impossible to live on and they need to start figuring out where they can send people in steps Titan. The moon of Jupiter is the location. When they start tinkering with peoples genomes things get interesting. 
Book- Sphere by Micheal Crichton.
An underwater adventure that has just enough science to make you sure he did do a bit of research on the aquatic elements. Proof that research into something is great.
TV Show-The Original Twilight Zone.
The show that gave us weird fiction on our TV screens for years. Lots to mine from the mind of Rod.
Joules-
Movie – The Sting.
This shows what goes into creating one hell of a con job. Before Ocean's 11 or Catch me if you can. It's pretty amazing. And gives a lot of insight on creating illusion. Layers on layers on layers. So you can see what the mark sees, what the "employees" see, and what the mastermind sees
Book – What If? By Randal Munroe
Applies real world science to insanely bizarre situations. What happens if you throw a baseball at nearly the speed of light. What would happen if the world stopped spinning instantaneously? So if you want to mess with your players and apply real laws of physics to fantasy, this is a treasure trove of wacky yet true ideas
TV Show – Ge Ge Ge no Kitaro
Stories about the Yokai. In a modern setting. And there's some really cutting social commentary in there as well. It's a great cultural, mythological, and social show. And entertaining as all get out.
Guard-a-Manger-
Movie – Dune (1984)
Yes, the book is in an earlier GM Library, but this is the glorious and completely over the top first theatrical adaptation. While not true to the source material, the 1984 Dune is a lush example of visceral science fiction. The saturated colors and fantastical elements are a rich source of inspiration. While a new movie is coming out in 2021 to cover the first half of the original Dune novel, don't overlook this seminal work of excess and unrestrained imagination to fuel your imaginations.
Book – The Complete Sonnets and Poems of William Shakespeare.
The use of language in a sonnet is a wonderful thing.  William Shakespeare's use of language is a remarkable thing that shaped the Western world's use of English for the last 400 years and may have helped shape how we conceive of being human.  A sonnet takes one minute to read.  Sonnets challenge preconceptions.  A sonnet is meant to be a little cheeky with a little bit of a hidden meaning.  Don't look at these as stuffy, but as the use of emoji text of its time. 
TV Show – Veronica Mars
Aside from being the vehicle that launched Kristen Bell's runaway popularity, Veronica Mars shows how a noir story can be executed without being obviously noir. While Veronica Mars contains all the tropes of a noir story from the down on the luck Private Investigator, the hard luck stories, and the lost loves, it is set in a California town rife with social divisions. Another example of how to work multiple genres into a cohesive and engaging story with the best backup ever featured.
Music is courtesy of Sim on Twitter you can find him at @TheSimulacrae
Find us
Author Pages with all of our contact info