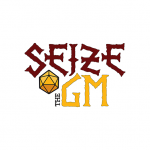 Main Topic
We introduce a fill in co-host till we have Null back in the saddle.
Today we sit down and talk about Player buy-in. How to get it and not abuse it.
Stat Blocks
Zendead – I have been doing one everyday this month so sorry folks.
Joules – Work makes you happy and work makes it so I can not do the things I want.
Guard-a-manger – Blue Devil File
Espionage genre – top secret; ninjas & superspies; etc
The Blue Devil file is a document or record sought by multiple governments & corporations who want to use its contents to further their goals. The funny thing is that nobody is clear on what the file contains. It is purported to be created by a private intelligence agency 20 years ago and has been stored on a now obsolete medium.
The mystery surrounding the blue devil deepens whenever it is rumored to be up for sale on the black market. Numerous rumors over the last decade have it being sold to different groups or companies but none of them ever seems to capitalize.
Tracking down these supposed purchasers only creates changing descriptions of the file itself and the contents contained – passcodes allowing backdoor computer access to the most powerful servers on the planet; an ancient scroll detailing long lost martial arts training; a statistical analysis of crop growth patterns; or maybe even an empty file, truly the Macguffin.
Regardless, the blue devil forces plans into motion and reveals hidden resources.
Lexicon
Halidom  noun hal·i·dom \ˈha-lə-dəm\
Definition of halidom
archaic
:  something held sacred
Origin and Etymology of halidom
Middle English, from Old English hāligdōm, from hālig holy + -dōm -dom
First Known Use: before 12th century
Closing remarks
Zendead- Bones 4 Kickstarter, Rules Cyclopedia
Joules- Anatomy of Animals Kickstarter, Sheldon Comic
Guard-a-manger- Five Degrees off Normal
Music is courtesy of The Enigma TNG you can find his music on YouTube or on Bandcamp
Find us
Show- Email, Twitter, Facebook
Zendead- Email, Twitter, Facebook
Joules- Email, Twitter, Facebook
Nulloperations-Email, Twitter, Facebook
Guard-a-manger- Email, Twitter
Find us on Patreon
And Thanks to Merriam-Webster for our Lexicon segment