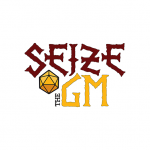 Main Topic
So today we wanted to do a GM Library for movies.

Zendead- Name of the Rose, Valerian and the City of 1000 Planets, Bright

Joules- Brazil, City of Lost Children, The Fifth Element

Guard-a-Manger- Rashomon, Jiro Dreams of Sushi , Ghost in the Shell (1995)

nulloperations- Moana, Cowboy Bebop: The Movie (yes, I know I'm cheating), The Matrix
Closing remarks
Zendead – email, call or text some friends and get together and hang out at a forest preserve or a state or national park. See the wonder and bounty that they have within the parks.

Joules – Pick a food from a movie/TV series and teach yourself to make it.

Nulloperations – Ghost in the Shell: Identity in Space [Nerdwriter1]

Guard-a-Manger – Tour your local Brewery or Distillery or Vineyard. Ask for their story and why it matters and see what matters to them. You may find that a local proprietor with a passion for what they do and what they make will give you great insight into what motivates people, and by extension your NPCs.
Music is courtesy of The Enigma TNG you can find his music on YouTube or on Bandcamp

Find us
Show- Email, Instagram, Twitter, Facebook Page, Facebook Group, Tumblr
Zendead- Email, Twitter, Facebook
Joules- Email, Twitter, Facebook
nulloperations- Email, Twitter, Facebook
Guard-a-manger- Email, Twitter, Instagram, Facebook Page
And Thanks to Merriam-Webster and Online Etymology Dictionary for our Lexicon segment

If you want to you can also help Support Me on Ko-fiFind us on Patreon