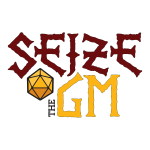 Main Topic
Earthdawn by FASA Games
Immediately on the heels of a successful Kickstarter for a marvelous book, shedding light on a corner of the Earthdawn setting never given a full look before, FASA announced a major shake up and new Kickstarter for the kind of book that exemplified Earthdawn and tonight Josh Harrison, the Line Developer for Earthdawn at FASA is joining us on Seize the GM! Spoilers warning for the latest developments in the plot running through Earthdawn!
Earthdawn is sometimes called the Best Fantasy RPG you haven't played! For people who don't know its history, what's the elevator pitch to get them to Earthdawn?
What's your origin story with Earthdawn and FASA?
How is the 4th edition ruleset changed from the last 3 editions?
That can you tell us about the Empty Thrones?
Did you know how you were going to announce the BIG setting shattering news?
See Champions Challenge, the Earthdawn Webcomic!
How long did it take to meet the goal for the new kickstarter?
What stretch goals are you most excited to have open so far?
What are you the most proud of in your Earthdawn work thus far?
You've also dived into Earthdawn podcasts with the Earthdawn Survival Guide! What has been the most enjoyable part of joining the podcasting masses? It is in the Podcast Compact that we have to talk about your podcast when you are a guest on our Podcast.
Closing remarks
Joules – Food Wars!: Shokugeki no Soma. This is a funny high school anime with cooking battles that are as intense as what you'd see on Naruto. Chock full of accurate food facts, rivalries, grudges, and exploding clothes. But the neat thing is that you can watch each character, young and old, grow and evolve with each experience. There is a pretty prominent ecchi component early on, but it simmers down later in the series and is used for great comedic effect. You can stream this on VRV/Crunchyroll
Guard-a-manger- Aside from the obvious Empty Thrones Kickstarter and the EDSG Podcast, I would say that you should gather some inspiration from Gargoyles! Available on Disney+, this is one of the seminal works of 90s Cartoons that can serve as nonstop inspiration for storytelling to this day!
Josh – Agents of SHIELD. The final season with a gonzo filled unabashedly fun season of time hopping adventures!
Music is courtesy of The Enigma TNG you can find his music on the following platforms
Find us
Author Pages with all of our contact info